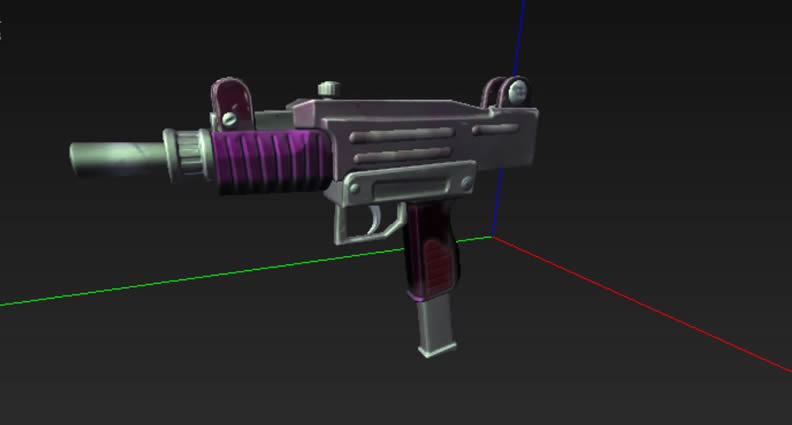 Combing through recent new assets discovered in Fortnite's v7.10 patch, it looks like Fortnite may soon add Machine Pistol weapon from Save The World to Battle Royale. 
The Machine Pistol is an Automatic Pistol weapon which has been present in Fortnite's PvE Save The World mode for really some time. New assets indicate that it might also appear in Fortnite's PvP Battle Royale mode.
The Machine Pistol closely resembles an Uzi (or Mini Uzi), which is also a compact, lightweight submachine gun. It's most likely the Machine Pistol will probably be placed within the SMG class in Battle Royale.
The Machine Pistol model inside the image above has the filename SK_MachinePistol_BR indicating that that is a operate in progress Battle Royale variant on the weapon.
Though the weapon has, however, to become placed within the Battle Royale Athena folder, it's most likely we'll see it moved there in an upcoming patch.
Audio files for the weapon have also been uncovered, indicating that it's nearing the final development stages. It is possible that Epic could scrap this thought in the close to future, it pretty nicely may well never see the light of day. By the way, If you instead need anything else on Fortnite Battle Royale that isn't to do with The Machine Pistol, you'll want to check out u4gm fortnite save the world weapons for sale list.
How do the players react to this news?
"looks to be an Uzi though like everyone has said. Usually, these are fast firing guns that dump the magazine quickly in most games. I could see them adopting it to function like the Tac SMG but who knows, since this is the vidya game world it doesn't have to function anything like an Uzi IRL."
"Or they could just bring back the damn tac SMG since no body wanted that gun vaulted and it's a shit ton better then the crap smgs they have now unless this is just a reskin of it."