Official DJ of the Wu World Wide DJ Coalition, Real DJs and Coast 2 Coast DJs.
DJ and On-Air personality on Popular Rhythms (www.popularrhythmsonline.com)
DJ Espee, born out of Southern New Jersey, is one of today's hottest underground mixtape DJs supporting as well as exposing up and coming artists in Hip Hop and R&B, also with today and yesterday's mainstream.

"Set the goal and reach the goal! Dont let anything stop you!" - DJ Espee
........................2013 Mixtapes........................
We Got Next 2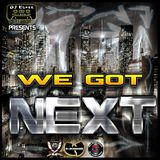 Daily Kush 3 (hosted by DJ Espee)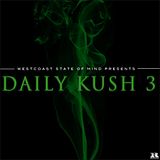 Young Industry - Cupid's Arrow (hosted by DJ Espee)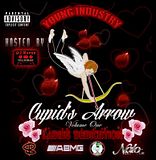 Pheed The Streets: The Pilot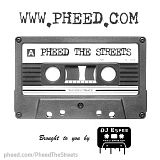 ........................2012 Mixtapes........................
 We Got Next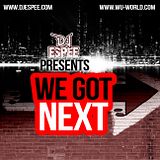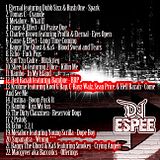 Unstoppable 2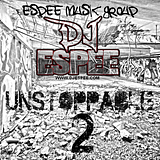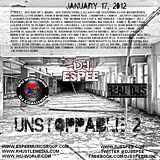 DJ Espee (Wu Worldwide DJ Coalition/Real DJs) has brought back Unstoppable and turned it into a series, with part 2 featuring all new music from your favorite hip hop recording artists.
1 SKILLZ - 2011 RAP UP
2 MAINO - 2012 PREDICTIONS
3 DJ SUSS-ONE FEATURING FLOYD MAYWEATHER, JADAKISS, LLOYD BANKS, FRENCH MONTANA, JUNIOR REID - CHAMPION
4 CHINGY - JACKPOT FREESTYLE
5 ASHANTI FEATURING BUSTA RHYMES - THE WOMAN YOU LOVE
6 WIZ KHALIFA - CALIFORNIA
7 JAY-Z FEATURING BLUE IVY CARTER - GLORY
8 AMBER ROSE FEATURING WIZ KHALIFA - FAME
9 PLANET ASIA - GOLDEN STATE
10 PLANET ASIA SKIT
11 CROOKED I - LA LEAKERS FREESTYLE
12 BOW WOW FEATURING LLOYD BANKS - YEAH YEAH
13 JOE BUDDEN FEATURING YOUNG CHRIS - LOWER
14 GUCCI MANE - CLUB HOPPIN
15 SAIGON - I AM 4 REAL
16 RAEKWON FEATURING BUSTA RHYMES - MTV CRIBS
17 PRODIGY - WHEN U UP
18 JR WRITER FEATURING SEN CITY AND T.W.O. - HOMOCIDE
19 A-MAFIA FEATURING HELL RELL - BODY BAG
20 FABOLOUS FEATURING MEEK MILL - YOU DONT KNOW BOUT IT
21 TI FEATURING YOUNG JEEZY - FUCK DA CITY UP
22 RICK ROSS FEATURING DIDDY - NEW BUGATTI
23 RICK ROSS FEATURING NAS - TRIPLE BEAM DREAMS
24 BIG SEAN FEATURING 2 CHAINZ - KEEP IT GEE
25 KID INK - TIME OF YOUR LIFE
26 RICK ROSS FEATURING DRAKE AND COMMON - STAY SCHEMIN
27 TI FEATURING B.O.B AND GAME - PISS'N ON YOUR EGO REMIX
........................2011 Mixtapes........................
                        Undercrowned Hustla Part 5 hosted by Ras Kass
After a long 17 month wait for a new DJ Espee mixtape release, part 5 of his signature series "Undercrowned Hustla" hosted by the legendary Ras Kass is here!

Part 4 was hosted by Flipmode Squad's own, Rampage, over a year ago February 2010. It featured many remixes with Rampage and some of the best songs from the unsigned hype from the streets of hip hop and r&b.


1. Ras Kass Feat Tristate - In My Lane
2. Rampage - Hit The Deck
3. Craze Colon - I Get It In
4. Switch - On The Grind
5. Metafore Feat Mitch Rosstein - 24 Hours
6. Echo - Assassination
7. Klientel - One Me
8. Young Platt Feat Hersh - Outlaw
9. E Philz, Mo Will, Joey Fingaz - Rollin
10. Chief and Stir Crazy - Running
11. Ekko - H.A.M.
12. Young Greatness - Rozay
13. Rambo Feat Dash - Witness My Arrival
14. Craze Colon - 10 Hut
15. Ekko - Hustle
16. Ramo & Arsonal - Something To Think About
17. Klientel - Money Neva Sleeps
18. Annimean Feat G Malone & Omar Cruz - Summertime In My City
19. Rambo - Rising To The Top
20. Rambo - My City Aint A City
21. Metafore - Snap Back Season
22. Craze Colon - Hope U Ready
23. Echo - My Country Is The World
24. Rampage Feat Notorious BIG - Countin Stacks
25. Ras Kass Shout Outs